Why
The right to education for Roma children continues to be seriously challenged throughout the European Union. Low levels of education and widespread illiteracy are among the main obstacles preventing Roma communities from benefiting from social inclusion, equitable access to the labor market and active participation in the public life of the countries where they reside
The quality and quantity of Roma school attendance and performance has been heavily influenced by the educational strategies and teaching models implemented in schools: they can either promote or discourage success and inclusion of Roma children in school.
Objectives
The objectives of the project are the following:
- To promote a more welcoming and inclusive school for Roma children 6 to 14 years old;:
- To fight the discrimination in education and to prevent and reducing absenteeism and educational disengagement of Roma children;
- To build a more inclusive school for all the students: a better school for all is our slogan.
Where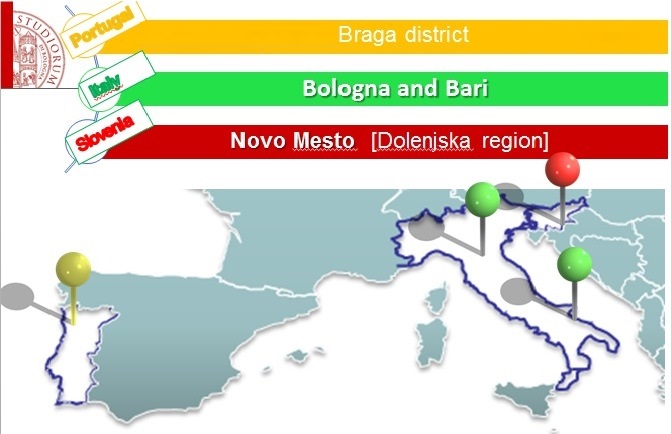 How
Action research is the main tool of the project. Teachers, social workers, Roma and non Roma parents and children are the interlocutors of the project. The project is developed through a series of consequential and fundamental steps. The approach is based on a co-construction of the  intervention plan for Roma children.
Actions
a training course

for teachers, social workers and other school personnel in the field of enhancement of teaching techniques (cooperative learning, learning by doing) and social and intercultural skills to improve information and knowledges of Roma communities

workshops with students

to develop specific skills and to be able to talk about diversity. Students moreover will promote a message against discrimination by the construction of a video graphic for other children and adults.

exchange of good practices among teachers, social workers, parents and students involved in all countries
Institutional Framework
The project contributes to the promotion of Article 21 of the Charter of fundamental rights of the European Union by supporting related state policies and national strategies through innovative actions focusing on inclusive education for Roma children. In parallel, the initiative is meant to support both the enactment of the EU Framework for National Roma Integration Strategies (EU Communication N.173/2011) and the adoption of the Common Basic Principles for Roma Inclusion so to provide a framework for the successful design and implementation of actions towards achieving inclusion of Roma populations into local communities life.